Asparagus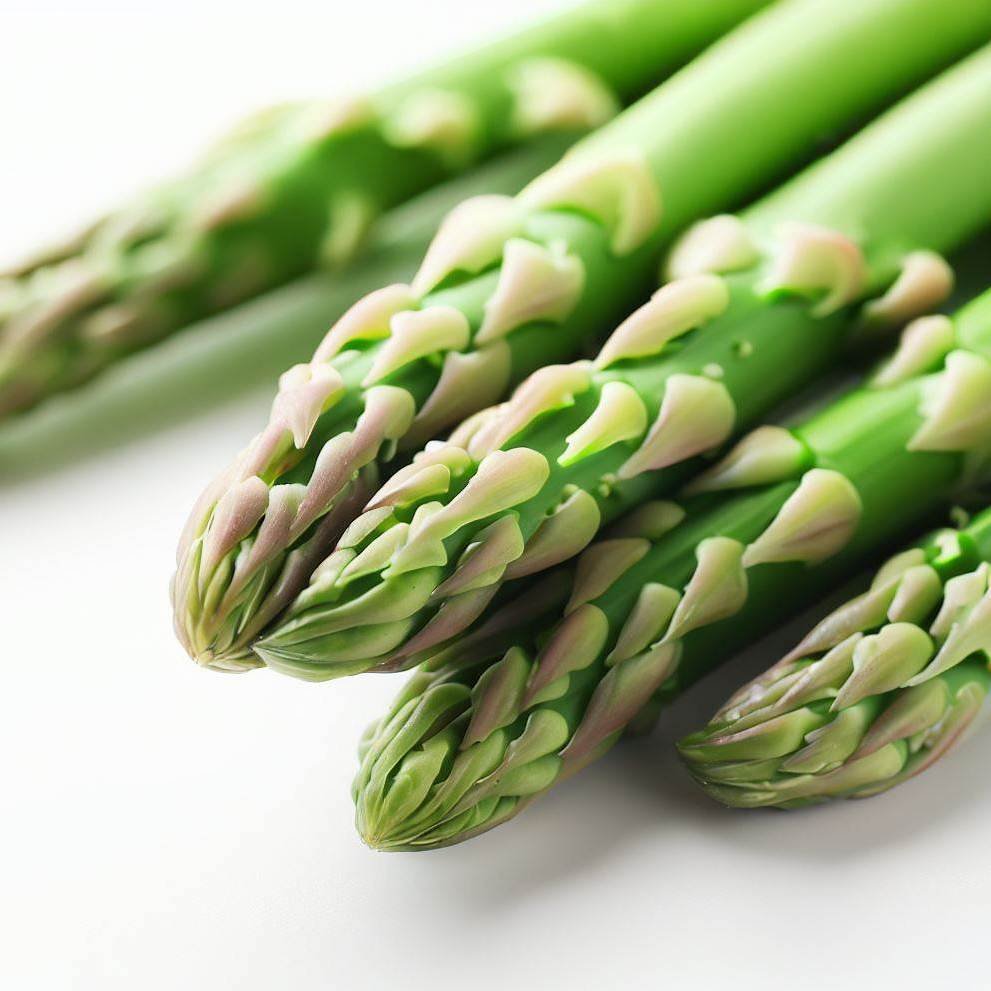 Asparagus is a nutritious vegetable that offers several health benefits. Some potential health benefits of asparagus include:
High in fiber: Asparagus is a good source of dietary fiber, with about 2 grams of fiber per 100 grams. Fiber is important for maintaining digestive health, promoting regular bowel movements, and reducing the risk of certain digestive disorders such as constipation and diverticulitis.
Rich in vitamins and minerals: Asparagus is a good source of various vitamins and minerals, including vitamin K, vitamin C, vitamin E, folate, and potassium. Vitamin K is important for blood clotting and bone health, vitamin C is a powerful antioxidant that supports the immune system and collagen synthesis, vitamin E is an antioxidant that protects cells from damage, folate is important for DNA synthesis and cell division, and potassium is essential for maintaining healthy heart function and regulating blood pressure.
Low in calories: Asparagus is a low-calorie vegetable, with only about 20 calories per 100 grams. This makes it a good option for those watching their caloric intake and trying to maintain a healthy weight.
Antioxidant properties: Asparagus contains various antioxidants, including glutathione, a powerful antioxidant that helps neutralize harmful free radicals in the body and may have anti-cancer properties.
Diuretic properties: Asparagus has mild diuretic properties, which means it may help promote healthy kidney function and urine production, aiding in detoxification and reducing bloating.
Potential anti-inflammatory properties: Asparagus contains certain compounds, such as saponins, that have been shown to have anti-inflammatory properties, which may help reduce inflammation in the body and contribute to overall health.
Versatile in culinary uses: Asparagus can be cooked in various ways, such as boiled, roasted, grilled, or sautéed, and can be used in a wide range of recipes, such as salads, stir-fries, omelets, and pasta dishes, making it a versatile and nutritious addition to a balanced diet.
As with any food, it's important to consume asparagus as part of a well-balanced diet and in moderation, taking into consideration your individual dietary needs and any potential allergies or sensitivities. Consulting with a healthcare professional or registered dietitian can provide personalized advice on incorporating asparagus or any other food into your diet for optimal health benefits.
| | |
| --- | --- |
| Energy | 20 kJ |
| Proteins | 2.2 g |
| Carbohydrates | 3.38 g |
| Sugars | 1.88 g |
| Fats | 0.22 g |
| Cholesterol | - |
| Saturated Fatty Acids | 0.041 g |
| Trans Fatty Acids | - |
| Monounsaturated Fatty Acids | 0.014 g |
| Polyunsaturated Fatty Acids | 0.081 g |
| Fiber | 2.1 g |
| Salt | 0 g |
| Water | 94.14 g |
| Calcium | 24 mg |
| PHE (Fenylalanin) | 85 mg |
Vitamins

Vitamine A

Vitamine C

Vitamine E

Vitamine K

Folic acid (vitamine B9)

Minerals

Potassium

Magnesium

Manganese

Sodium

Iron

Zinc